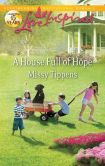 A House Full of Hope
by Missy Tippens
About the book~
Before becoming a Christian, Mark Ryker ran with a bad crowd and broke hearts. Including his father's. Now a successful businessman, Mark has come home to Corinthia, Georgia, to make amends. But no one will forgive him. So when the widowed mother of four renting his dad's run-down house needs help fixing up the place, Mark gets to work. Pretty Hannah Hughes and her sweet kids have him longing to be part of the clan, but Hannah isn't ready to let go of the past. Still, they are working together on a house full of hope—and that's all Mark needs.
Sharing my humble opinion~
Wow! I can see why this book is a RITA finalist! Missy Tippens really knows how to ratchet up the emotional conflict.
After overcoming a troubled youth and building up a successful business in Seattle, Mark Ryker returns to Georgia to apologize to his father for his past. Saddened by his father's rejection but knowing he's right where God wants him to be, Mark determines to stay in town until he can get his father to talk to him. To pass the time while his father works, Mark makes some much needed repairs to the family homestead.
Widow Hannah Hughes only wants to provide for her four children, and a home of their own is her top priority. Mark's return upsets her. She can't possibly afford another house as big as the one they're renting from Mark's dad, and w
hat if Mark decides to move back?
But there's another reason she gives Mark grief for coming back. H
er family suffered tremendous loss from Mark's youthful indiscretions. An apology doesn't erase the past, and forgiveness doesn't come easy, but her children don't share that issue. Mark's easy, gentle way with them wins their love, and that's a sure way to win a mother's heart.
This is one of those books where you wonder most of the way through how the hero and heroine can possibly find their happily-ever-after. Several conflicts and obstacles threaten to tear them apart, including vicious town gossips and Hannah's own mother. At times, I wanted to shake some sense into both Mark and Hannah, but with their past hurts and present emotions, I could understand why they reacted the way they did. Overall, A House Full of Hope won me over. I'll definitely be reading more books by Missy Tippens.
Purchase Link
In real life, I don't think most prickly familial discord resolves quite so quickly, but this is a work of fiction with a definite theme of forgiveness.
Have you experienced family conflict? How do you deal with it?
Disclaimer: I purchased this book. No monies were received in exchange for my fair and unbiased review, and all opinions expressed are my own.
Labels: A House Full Of Hope, bad boy, Book Review, christian fiction, contemporary, family conflict, forgiveness, Inspirational, Love Inspired, Missy Tippens, redemption, RITA finalist, romance, widow